You can't really go see a comedy act if you're not sure who's on tour or who are performing near you. Having a basic idea of what's going on in your area, and even having a wish list of comedians that you would like to see perform is essential if you're going to take advantage of getting to a show in the near future.
Luckily, this is really easy to do.
One of the ways that we have used in the past is through the news. Newspapers will still announce local performances, especially for big named groups and comedians. However, this usually only reaches out a week or so ahead of time, depending on where you're looking. This might be too late for you to get the tickets that you desire. Thankfully, the web has made this a lot easier and you can search for specific shows and comics to make sure that you know what their tour dates and stops will be.
There's an even better way to stay on top of who's touring, though.
Third party ticket sites often build tools to help you to stay on top of these things right into their sites. If you think about it, it is beneficial for them to do so. If they are only making money when people buy tickets through their site, then a big part of their success is telling people what tickets are available. Sites often have a customization tool that allows you to specify which types of shows you are interested in going to see, where you'd like to see those shows and several other features. When a performance that meets your description is found, then you will receive some sort of alert about it. This could be an email, a push notification, or something else. Either way, rather than searching to find the best comedy acts near you, that info is delivered to you instead. It can make life a lot easier.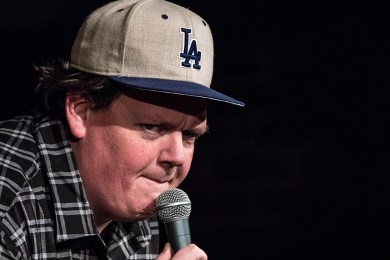 And if it's beneficial to the site for them to do this, then you can be confident that it will be accurate. But even if this is true, you also have to remember that there is more than one ticket site out there. There are dozens. All of these sites are competing for your business—and you can create an account and an alert system up with each of them. Having several ticket sites sending you notifications might be a bit overwhelming on your phone, but it will guarantee that you know what tickets are available and when. Because you will have sites competing for your business, you will also be able to find the best seats at the best prices. It's not a perfect system and sometimes the notifications can be delayed, but it will help you to expand your reach so you never miss out on the biggest and best shows.
Getting Tickets
If you want to see a specific comedy act, the sooner you know that tickets are available, the better. This is why the alert services that many sites provide can be so helpful. As soon as a major tour is announced, you will be the first to know about it. As soon as tickets are available, you will know. The rest is up to you.
So, keep reading to find out how to get tickets. Because finding out that your favorite comedian will be close to you is only part of the process. Getting to the show itself is the goal. Our site is designed to help you to make it to that step. For more advice on how to get tickets, be sure to check out our other pages.